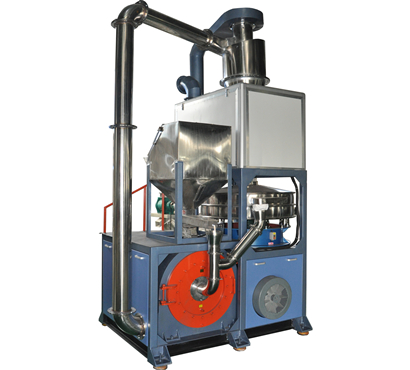 MPD series is the grinding system with higher automation developed on the basis of MF series disc mill. This machine can be equipped with different dust collector systems, feeding devices, packaging systems, integrated programmable controllers, etc. It only needs a small amount of work to ensure a high level of fully automatic production. This series of machines serve the mixinues"

MPD Series New-Type vertical disc pulverizer belongs to disc pulverizer series, which has the advantages of high-output and low-power. This pulverizer is mainly applied for pulverizing polyethylene (PE, including LLDPE,LDPE,MDPE,HDPE), polyvinylchloride (PVC, including hard PVC and soft PVC), polypropylene (PP), polystyrene (PS), ABS, Nylon, EVA, PET and other materials. This pulverizer is used to reduce the costs of materials, materials modification and improve product quality.
Main parts of the pulverizer system is independent control cabinet, pulverizing host, cyclone separator, air shutter, vibration sieve, draft fan, dust catcher, hopper and pipes.




A wide range of applications


Multifunctional hopper design for inlet / outlet


Good powder flowability, easy to mix with other powders


Optional multiple devices for fully automatic continuous production

1. The new disc design is used, high-yield, strong resistance and the life of this grinding disc is double the ordinary.
2. The use of newly designed professional bearings, and reached a high rotation rate. At the same time using only one drive motor, to ensure the efficient grinding crash, which greatly saves the time and operation of machinery and control engineering.
3. Installation and maintenance easily, open the door to cover clean-up.
4. Milling process of the whole seal, without dust leakage.
5. Full automated, automatic feeding, the materials and sorting.
6. Grinding gap adjustment is simple, just use the plug-foot bolts and adjustments can be fine-tuning (60-150 mesh)
7. The host used the water and wind double cooling system; Rational design of smaller cross-section of the grinding chamber, grinding is almost flat vertical surface. Material entered the grinding chamber as soon as caught, grout, and then rapidly removed, which eliminates the grinding chamber of the surge in materials, heating materials to avoid decomposition, resulting in improved production.

| | |
| --- | --- |
| Main motor | 22-110kw |
| Input material size | ≤ 10mm |
| Diameter of grinding disc | 350-800mm |
| Output | 100-1200kg / h |
| Applicable materials | LDPE, HDPE, soft PVC, PET, PC, ABS, ... |
Attention: the throughput depends on the types and size of grinding materials,along with the finess of the grinding materials.Usually, the original diameter of the material ranges from 8 to 10 mm.