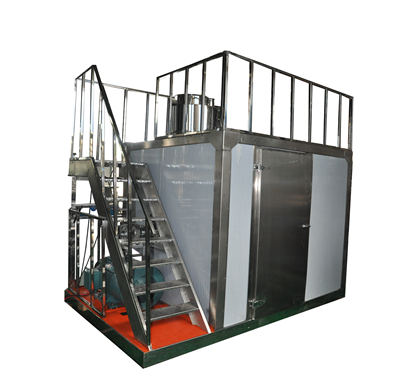 MCPT series cryogenic mills use liquid nitrogen to cool the material before and during the grinding process. The extremely low temperature prevents the melting of low melting point materials and produces finer particles. It can be used to grind polymers such as engineering resins, rubber and adhesives, and pharmaceuticals, including food-grade materials into high-quality powders. This series has laboratory cryogenic mills suitable for R & D sampling and testing, as well as large-scale cryogenic grinder suitable for mass production.

The full set of deep cryogenic grinder is composed of feeding bin, mechanical pulverizer, induced draft fan, cyclone, vibration sieve, liquid nitrogen tank.
In the process of pulverizing, the cold source comes into being a closed loop system, which makes full use of energy and save the engery. The cold medium temperature can be reached upto -196 degree Celsius. It can be adjusted according to the brittleness point of different stuffs. The pulverizing powder granule ranges from 50-400 mesh. Using liquid nitrogen as medium achieves ultra-low temperature pulverizing to avoid the explosion and oxidation and so on.
Working principle
This deep cold pulverizer system takes liquid nitrogen as cold source and use the brittleness of the stuffs under cold temperature. When the cold brittle stuffs enter into the pulverizer chamber, with high speed revolution of impellers, the stuffs inside will be pulverized through the integrated effects of mutual repeat impact, collision, shearing, rubbing between stuffs and stuffs, stuffs and vane, stuffs and gear plate. The stuffs after pulverization will be classified and collected. The particles which haven't reached the size requirement will be returned back to the bin and pulverized again, most of the cooling air will be also recycled.
We also provide the lab type cryogenic grinder machine for customers who have just started production







Produce high-quality ultra-fine powder


Nitrogen inertness improves process safety


High energy efficiency and small footprint




Main motor power: 5.5-55kw
Input material size: ≤ 10mm
Medium: Liquid Nitrogen
Cooling Temperature: 0℃ — -196℃
Diameter of blades: 250-550mm
Fineness: 10-500 mesh (depends on material)
Output: 100-1200kg/h