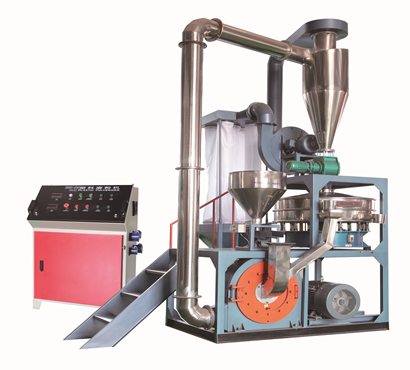 SMW系列磨粉机的主要应用领域之一是在管道和型材的回收中对PVC废料进行研磨,生产出的粉末可同新的PVC 材料混合,再次进入管材和型材的挤出生产中。这套设备可根据客户对细度的具体需求选择带或者不带振动筛。


The brand-new SMW series plastic pulverizer belongs to the turbo-type pulverizer series, which knife flywheel diameter from 500mm to 800mm. This pulverizer is high speed, turbo-type grinders for the processing of medium hard, impact resistant and friable materials,its mainly used in the field of rigid PVC recycling, such as the recycling of defective products of PVC pipes, profiles, plates and corner residual materials.

Working principle

In the airflow of high-speed rotation of the cutter head, the material is thrown toward the tooth plate due to the centrifugal force, and is crushed by the friction between the blade and the tooth plate. The fine powder is discharged with the air flow, and the coarse particles close to the tooth plate cannot be ruled out due to the obstruction of the baffle and continue to be crushed until the powder is discharged with wind.


Grind samples (PVC)




1.Compared with similar grinders, its output is greatly improved (increased by 20%-50%) under the same power. It is energy-saving.
2.The dust collector is added to effectively reduce dust pollution.
3.The discharging of the main fan reduces labors intensity of operating workers.
4.The door cover of the host can be opened for convenience of maintenance and replacement of cutters.
5.Wind and water cooling system are adopted to decrease the working temperature inside the machine body, so the grinded material uneasy for denaturalization .
6.The powder mesh is adjustable (20-100 mesh).
Simple adjustment of cutting gap

Economical and effective


Easy to repair and replace parts

Low power consumption and high output

| | | | |
| --- | --- | --- | --- |
| Model | SMW-500 | SMW-600 | SMW-800 |
| Diameter of disc (mm) | ¢ 483 ±1 | ¢583 ±1 | ¢783 ±1 |
| Rotary blade (pc) | 24 | 28 | 36 |
| Static blade (pc) | 12 | 14 | 19 |
| Main motor powder (kw) | 37 | 45/55 | 75/110 |
| Capacity (kg/h) | 200-300 | 300-400 | 500-1000 |