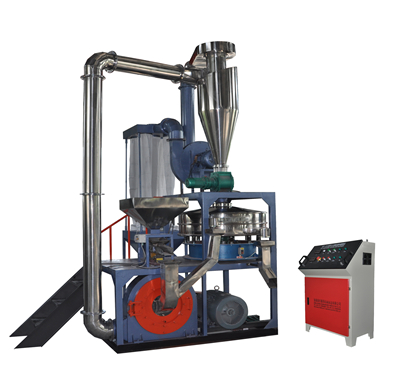 MF series mill can be used for economical and efficient grinding of various thermoplastic materials at normal temperature, such as HDPE MFPE LLDPE LDPE PP PVC ABS PA PC and so on. Produces high-quality powders (free-flowing powders with high bulk density) for rotomolding applications. Relative to output and energy consumption, the MF series is the most economical air-cooled mill. The smaller footprint (compact size) makes it ideal for producers or processors.
The brand-new MF series PE pulverizer belongs to the Disc-type pulverizer series, which disc diameter from 350mm to 800mm.This pulverizer is high speed, precision grinders for the processing of medium hard, impact resistant and friable materials, for example PE、PVC、PP、ABS、PA、EVA、PET、PS、PPS、EPS、PC、Foam、Cow leather and so on.
One of the main fields of use of HUIBANG MF series plastic pulverizer is the pulverization of PE for rotomolding applications. In this process, a screening machine is necessary to ensure the right output size.
Area of application:
Size reduction of plastic

Engineering plastic compounding

Extruded plastic recycling


Composite plastic production


Rotomolding powder production and recycling


Pipe & sheet crushing and recycling

Save and simple adjustment of cutting gap


Low drive power and High throughput


Easy to maintain and control


Automatically regrinding coarse powder


Water and wind dual cooling system


Various Disc configurations available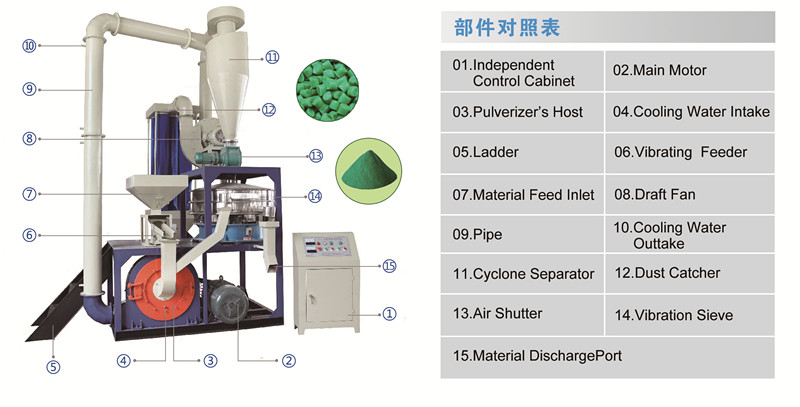 Model

MF-400

MF-500

MF-600

MF-800

Diameter of disc(mm)

¢400

¢500

¢600

¢800

Main motor power (kw)

22

37

45/55

75/110

Capacity(kg/h)

50-300

80-500

120-800

200-1200

Note: The output is affected by material properties , feed size, powder size and so on.